Sameed Imran Sameed has been on several project evaluations at ADP. He is currently an Analyst in the Investment Banking Group at the Toronto-Dominion Bank (TD) in Canada and specializes in credit portfolio management and corporate credit transactions. Prior to joining TD, Sameed worked at the Royal Bank of Canada in investment management.
Sameed graduated from the University of Toronto with a specialist in Finance and Economics degree.
Volunteer Spotlight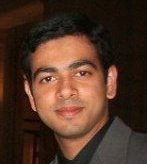 Nabeel Hasnain
Nabeel is a Stanford graduate and currently works at a solar startup in the Bay Area.